EASI - Typology
Identify Motivation and Behaviour
The typology test EASI makes it easy to understand what drives people and creates balanced, well-functioning and high-performing teams and nurture leadership.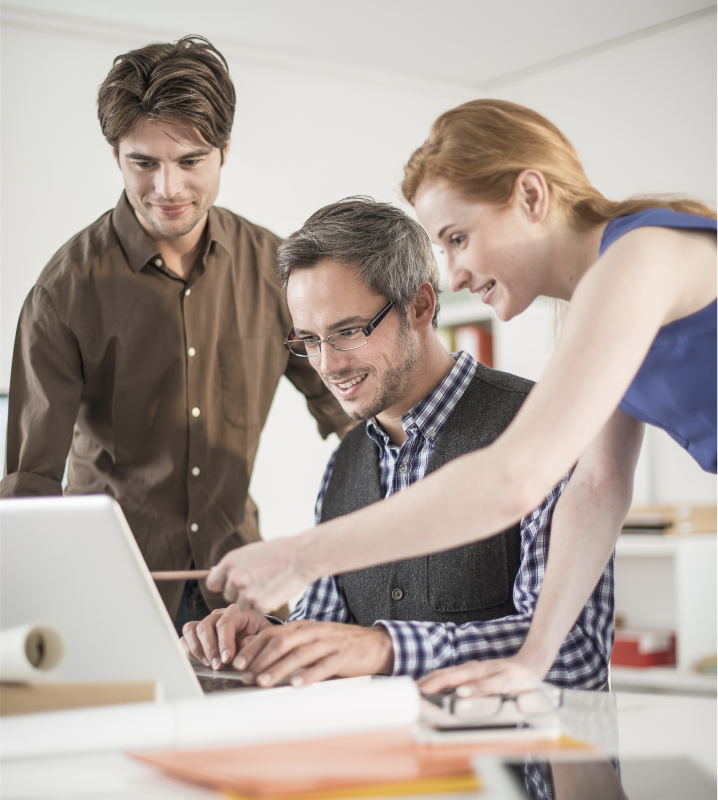 What you get
EASI gives you insight
regarding psychological traits
Personality testing with EASI provides line managers and HR professionals with knowledge about what psychological traits make their employees and teams tick. Knowledge about what drives people can help leverage the power of diversity. EASI gives you: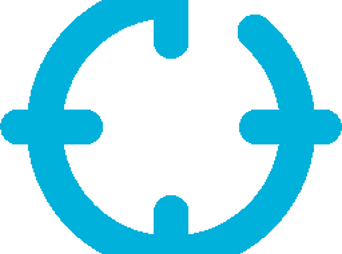 Identify personality
You can identify personality and drivers of existing employees and teams.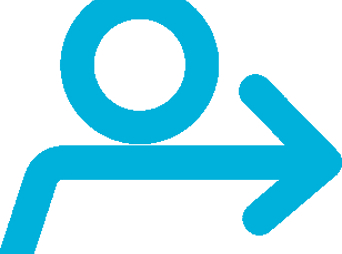 Effective communication
You get a common framework for effective communication about people-related issues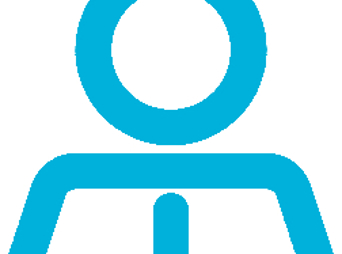 Build winning teams
You can assess, tune and build winning teams and internal effectiveness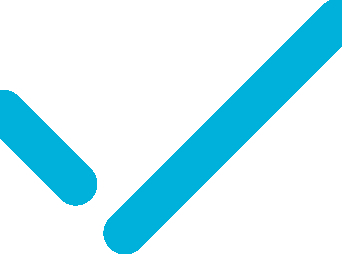 Personality facts
You can create and manage dynamic teams based on personality facts rather than hunches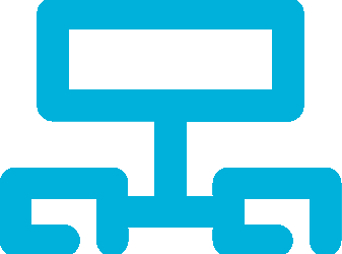 Beneficial dynamics
You can turn human idiosyncrasies into beneficial dynamics and commercial success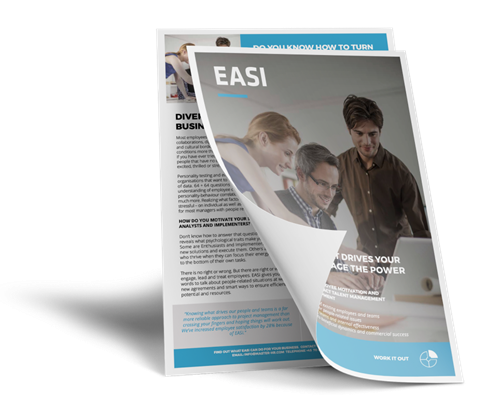 Why EASI?
A hands-on-tool to meet day-to-day challenges
EASI is a typology test based on four of the factors from the Five-Factor Model of personality, which are split into two orientation axes: Person vs. Task; Control vs. Participation. EASI classifies people into four basic types based on their test results:
Enthusiast
Analyst
Supporter
Implementer
It is often used to develop individuals and groups by helping them to improve their communication. It is a hands-on-tool to meet day-to-day relationship-based challenges.
EASI consists of two parts: Behaviour and Motivation - that can be used together or separately dependent on the purpose of the testing.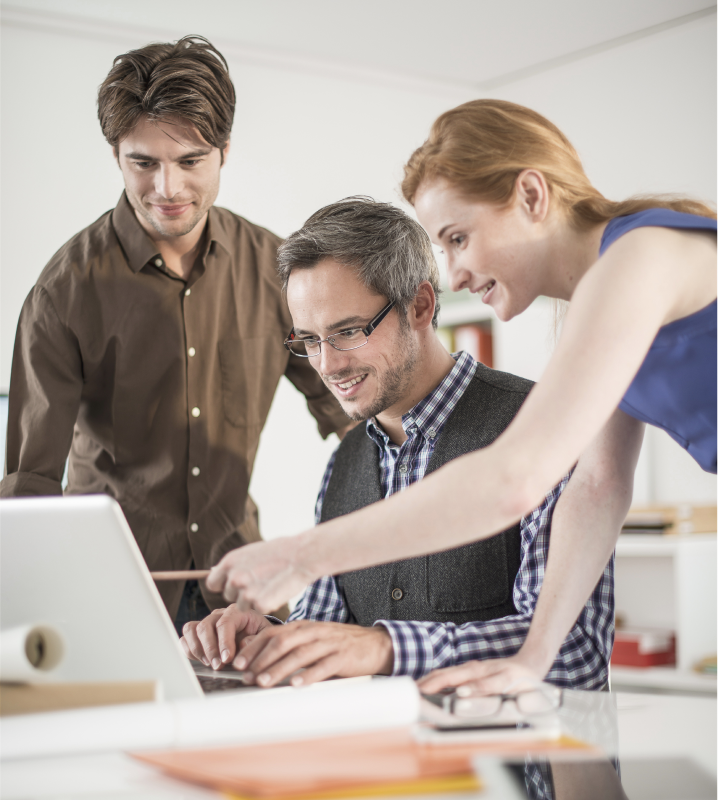 Get started
Used with employees and managers at all levels
EASI is a development tool that can be used with employees and managers at all levels of an organisation. It creates value in a number of contexts:
Development & collaboration
Teaching/training
Team building
Individual development
Coaching
Career advice
Employee performance appraisals
Organisational culture development
Language
EASI is available in Danish, English, Finnish, French, German, Italian, Norwegian and Swedish.
Norms
There are national as well as international norms available.
More than 95% of all organizations are hiring the wrong people every year.
The cost of a wrong hire is 53,000 EUR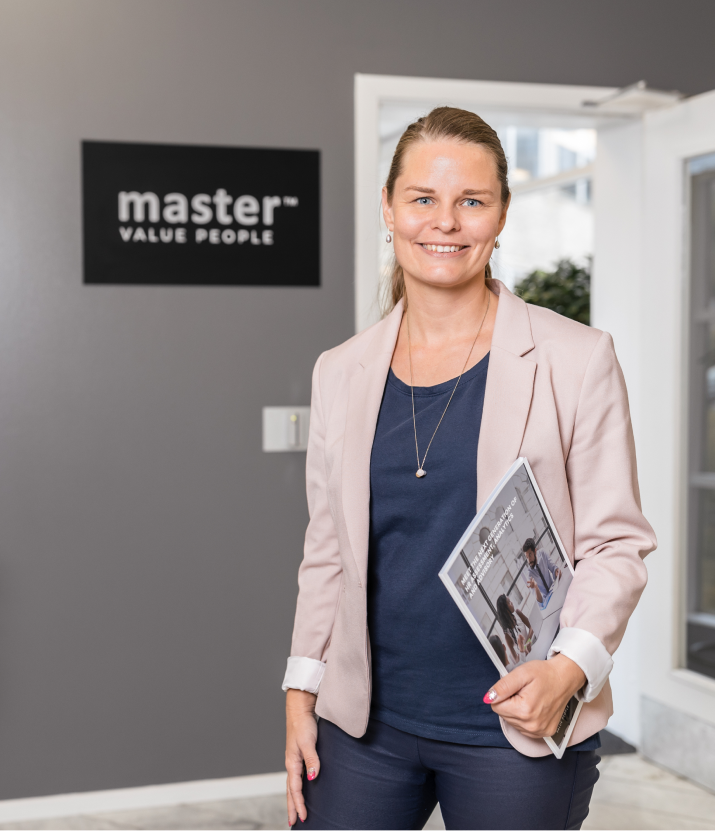 Documentation
What is the

science behind EASI?
EASI is a typology test based on the Five-Factor model of personality and includes content from four of the five factors: Openness, Conscientiousness, Extraversion, and Agreeableness. EASI highlights the relationship between everyday Behavioural Style and Motivational Style, which provides a key to personal and team development.
EASI classifies people into four basic types: Enthusiast, Analyst, Supporter, and Implementer, and is a tool used to develop individuals and groups by helping them to improve their communication.
EASI is suitable for use with employees at all levels across a range of applications:
Team building.
Development of collaboration.
Teaching/training.
Career advice.
Employee performance appraisals.
Organisational culture development.
Individual development.
Coaching
EASI has several national standards as well as an international standard. The combined norm samples contain more than 20,000 responses.
When choosing a test tool, we recommend that you pay attention to its validity and reliability. Extensive documentation has been performed to provide evidence of reliability and validity.
Validity
Criterion validity: resulting types are evaluated by test takers as relevant and valid: 94% rated the match between work behaviour and EASI as "very good".
Construct validity: mean item-total correlations within each scale are very high (r = 0.55). Factor Analysis of the model has shown good construct validity in relation to the Five Factor Model.
Differential Item Functioning (DIF): DIF was rejected across gender, country, age, and educational level. This is strong evidence that EASI functions equally well when used on different groups.
Reliability
Cronbach's Alpha: Behavior mean α = 0.87 and Motivation mean α = 0.89
High standards
equals high trust
EASI is developed based on international standards and guidelines and have been reviewed by external specialist in professional psychometrical testing.
Customers
Companies we have supported in

talent acquisition

We collect good stories about how our customers create measurable value with our solutions. The best effect is obtained by adapting the method to the individual business, large and small. No two stories are alike.

"We work with HR in a strategical manner, and now we have the added benefit of receiving an extra layer of data that can be used to develop our business. In this manner we can qualify individuals as well as the organisation as a whole."
- Trine Ankjær - HR Manager - BDO